An indirect restoration, also called a crown or bridge, is used to cover or replace a tooth that is broken, discolored, badly shaped or has too much decay for a filling
The restoration is fitted over the original tooth after any decay has been removed
The right restoration will look, feel and last like your natural teeth
Your teeth play an important role in your overall health as well as your appearance. So, naturally, you want to do everything you can to keep them healthy and looking good. Sometimes, however, tooth decay advances to a point where a tooth is too weak to survive with just a direct restoration or filling. Instead, your dentist may recommend an indirect restoration, also known as a crown or bridge. In these cases, the decayed area is removed and the restoration is fitted over the original tooth. This is a step that can help preserve the health and appearance of your smile.
Metal
Alloy of metals with either silver or gold appearance. Does not mimic look of real teeth. The traditional restoration used for decades.
Porcelain-Fused-To-Metal
Porcelain, fused to an underlying metal structure. Comes closer to the look of real teeth than metal restorations. Metal substructure limits translucency sometimes resulting in restorations looking dull and lifeless.
Zirconium Oxide
Achieves the beauty and translucency of natural teeth. Produces strong, durable restorations. Could be an alternative for those who have concerns about metal.
| | |
| --- | --- |
| Over time, metal restorations can leave a dark ridge where the gums recede. | With Lava™ zirconia, your restoration retains its original beauty for years. |
Case Courtesy Dr Ariel J. Raigrodski
Precision CAD/CAM system for outstanding marginal fit - This greatly reduces the chances for decay below the crown/bridge.
Proven high strength performance-Lava™ Crowns and Bridges have a substructure made of Zirconium oxide,the stongest dental ceramic material available
Lava™ Crowns and Bridges can be matched precisely to the colour of your own teeth and provide the translucency that metal-based restorations and other opaque zirconia cant.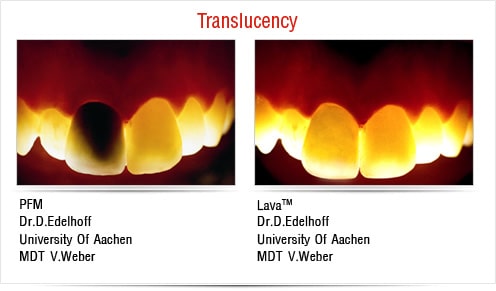 Lava™ Zirconia not only offers strength and longevity benefits of porcelain fused to metal (PFM) but also has tremendous advantages compared to other Zirconia restorations.
Lava™ Zirconia crowns and bridges can be matched precisely to the color of your own teeth and provide the natural translucency that metal-based restorations and other opaque Zirconia can't.
Your smile deserves something more precious than metal. Bring out the natural beauty in your smile and ask your dentist about Lavaâ"¢ restorations - the brand of zirconia most asked for by dentists.